ALL POLISH OYAMA KARATE SEMINAR IN KUMITE

Jelenia Gora 2022

Shihan Rafał Majda during the seminar.
Foto Grzegorz Truchanowicz


On January 8-9th 2022 City of Jelenia Gora hosted All Polish OYAMA karate Schooling Seminar that focused its attention on kumite combinations. Around two hundred participants trained under a supervision of Hanshi Jan Dyduch 8 dan, Shihan Pawel Pajdak 6 dan and Shihan Rafal Majda 5 dan who was also a host of the event and led the kumite training. Seminar was prepared especially for chiefs of clubs, heads of schooling, referees, black belts and fighters.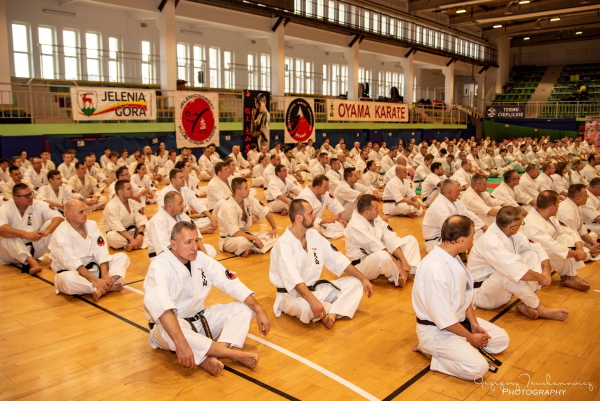 Opening ceremony. Foto Grzegorz Truchanowicz
During the Seminar Hanshi Dyduch spoke about Federation plans for 2022, conducted class for the OYAMA PKF instructor course and also, accompanied by Shihan Andrzej Pierzchala 7 dan, handed the black belts and certificates to the participants of the October XIX International Schooling - Qualifying OYAMA PKF Seminar, held in Krakow 2021.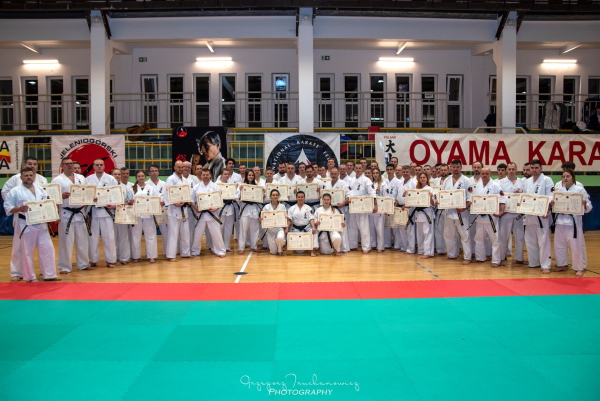 We have grown by few dan J. Foto Grzegorz Truchanowicz
The main part, of the two day Seminar, focused of Shihan Rafal Majda's four trainings regarding advanced combinations and specialist exercises including "thai pads" and large trainer pads. During the task kumite combinations Shihan challenged the participants with quick movements, avoiding the line of the attack and using "deceptive tricks".
Kumite training. Foto Grzegorz Truchanowicz
Shihan Pawel Pajdak led a workshop for referees in kumite competitions. Participants polished their abilities in procedures, gestures and commands.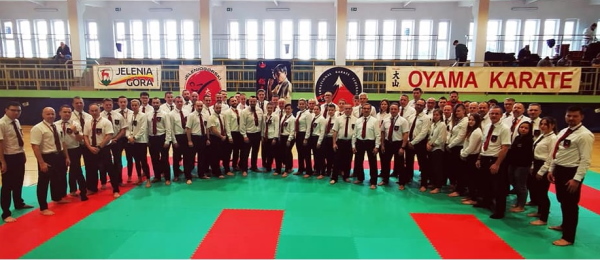 Participants of referee workshop.
HANSHI JAN DYDUCH WOULD LIKE TO THANK ALL THE PARTICIPANTS FOR THEIR ATTENDANCE AND ENGAGEMENT, OSU!

HANSHI DIRECTS SPECIAL THANKS TO SHIHAN PAWEL PAJDAK
AND SHIHAN RAFAL MAJDA FOR PROFESSIONAL TRAINING
AND EFFECTIVE ORGANIZATIONAL COOPERATION, OSU!