INTERNATIONAL OYAMA KARATE SEMINAR IN POLAND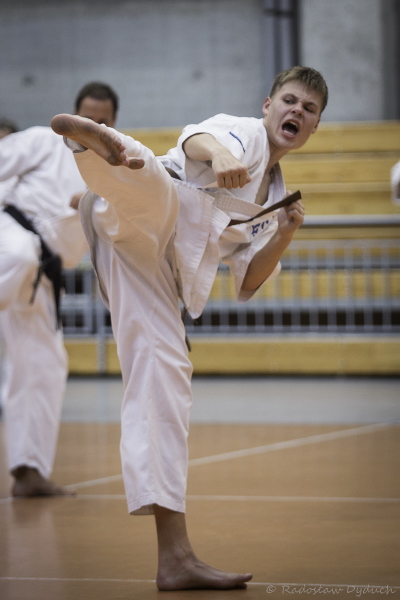 Aleksei Pomogaiba from Estonia. Photo Radosław Dyduch


On 8-10 October 2021 the 19th International Oyama Karate Seminar, celebrating the 30 years of Oyama Karate in Poland (1991-2021) was held in Kraków. The two-day exam gathered over 180 instructors and participants mostly from Poland, Estonia and Germany. The seminar was hosted by the Krakowski Klub OYAMA, with financial support of the Municipality of Krakow. OSU!

The exam hall. Photo Radosław Dyduch
The exam was conducted by Hanshi Jan Dyduch 8 dan, assisted by Shihan Andrzej Pierzchała 7 dan and Shihan Paweł Pajdak 6 dan.
Bo kihon kata. Photo Radosław Dyduch
On Saturday, the candidates over the age of 40 were examined, and on Sunday it was time to test the younger age group. During both days, multi-hour technical tests consisted of the presentation of techniques, combinations, Kihon-Kata 1-8, Kumite No Kata 1-3, Advanced Kata and Kata with weapons: Bo, Tonfa and Sai.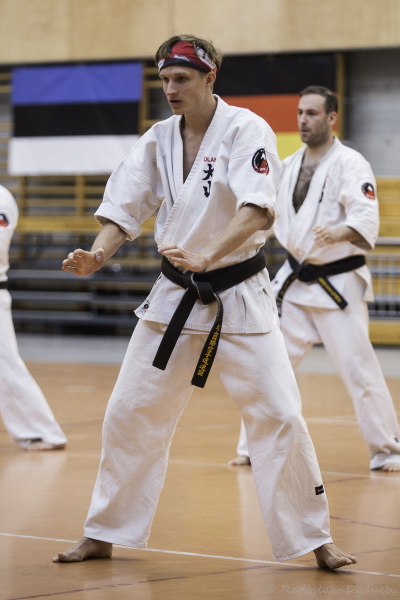 Sensei Bartosz Pajdak. Photo Radosław Dyduch
During the opening ceremony, Hanshi Jan Dyduch handed the 5 dan certificates and belts to: Shihan Dariusz Szulc, Shihan Tomasz Klimaszewski, Shihan Jerzy Walaszczyk and Shihan Jacek Kasperek.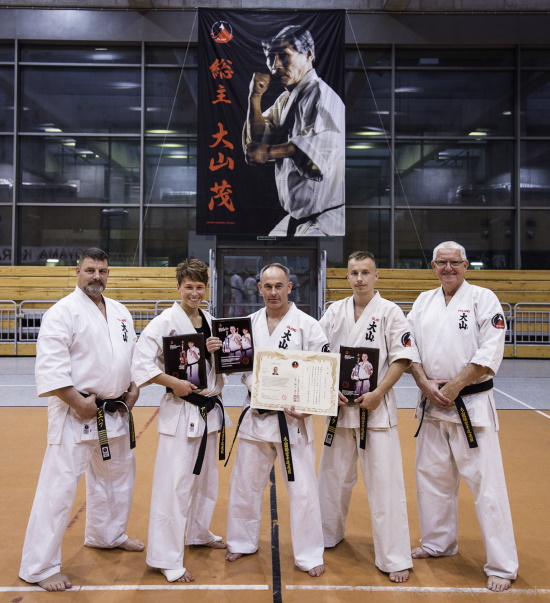 Awarded masters from Piotrkowski Klub Oyama Karate WASHI.
Photo Radosław Dyduch
Special certificates were handed to the Best OYAMA Polish Karate Federation Competitors in 2016-2021: Sensei Jakub Kowalik 3 dan, Sensei Angela Szulc 2 dan and their trainer Shihan Dariusz Szulc 5 dan (everyone from Piotrków Trybunalski).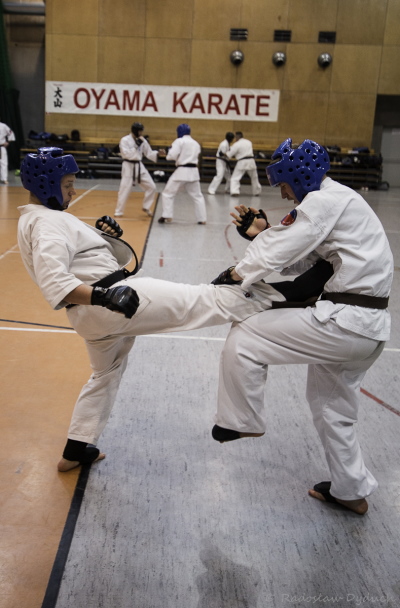 Examination fight. Photo Radosław Dyduch
During the practical part - the Kumite, the candidates for the master degrees, especially for the 1 dan, had to endure the fights in accordance with the OYAMA IKF regulations. Traditionally, the fights were remarkably tough, forcing the candidates to exercise tremendous physical effort and to overcome their weaknesses.
The group of the exam participants under the age of 40.
Photo Radosław Dyduch
On Sunday, the Reporting-Election Meeting of the OYAMA Polish Karate Federation and OYAMA International Karate Federation (OYAMA IKF) was held. Later, a formal reception celebrating the 30 years of Oyama karate in Poland took place with the participation of the executives of the clubs and the exam participants.
WE WANT TO THANK ALL THE PEOPLE WHO TOOK PART IN THE SEMINAR FOR THE ACTIVE PARTICIPATION AND SUCCESSFUL COOPERATION. OSU!

THE SEMINAR WAS HELD WITH FINANCIAL SUPPORT OF THE MUNICIPALITY OF KRAKOW. THANK YOU, OSU!