The 2nd Polish Oyama Karate Cup in Kata

Mateusz Kosturek. Photo: www.oyama-foto.pl

On November 16th 2019 the City of Turek hosted the 2nd Polish Oyama Karate Cup in Kata. Overall 180 competitors from 24 clubs participated in the event. The tournament was organized by Turkowski Klub Karate with Shihan Włodzimierz Rygiert 4th dan. Hanshi Jan Dyduch 8th dan, the Chairman of OYAMA Polish Karate Federation took patronage over the Cup.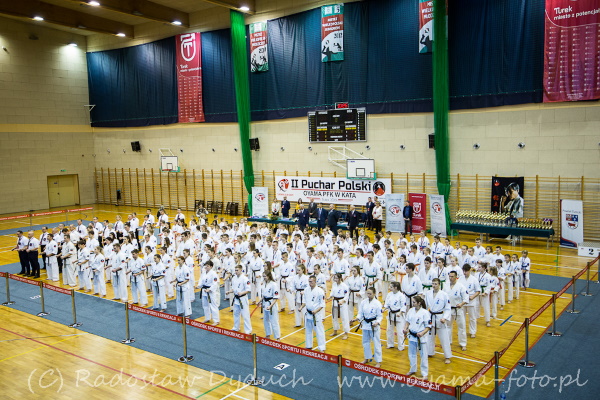 Opening ceremony. Photo: www.oyama-foto.pl

The competition stood on a high technical level. The title of best competitor of the Polish Cup in Turek went to: senior female Maja Wojcik (Krakow) and senior male Jakub Kowalik (Piotrkow Trybunalski).

Maja Wojcik and Jakub Kowalik. www.oyama-foto.pl
Photo gallery: www.oyama-foto.pl
WINNERS
TEAMS KATA (Kumite No Kata 1-3)
1. Jakub Kowalik, Angela Szulc, Karina Kowalik from Piotrkow Trybunalsk
KATA
1. Jagoda Mekwińska, Piotrków Trybunalski
1. Kacper Karolak, Konin
1. Oliwia Sosin, Łódź
1. Bartosz Kociołek, Tychy
1. Paulina Sułkowska, Rzeszów
1. Maciej Bajdor, Piotrków Trybunalski
1. Inga Fister, Piotrków Trybunalski
1. Patryk Matczak, Łódź
1. Kinga Kowal, Olkusz
1. Grzegorz Furgaliński, Olkusz
1. Maria Walas, Piotrków Trybunalski
1. Sebastian Rzeźnik, Tychy
1. Maja Wójcik, Kraków
1. Jakub Kowalik, Piotrków Trybunalski
WEAPONS KATA
1. Natalia Grześ, Jelenia Góra
1. Patryk Matczak, Łódź
1. Kinga Kowal, Olkusz
1. Grzegorz Furgaliński, Olkusz
1. Maja Wójcik, Kraków
1. Klaudia Bajrasz, Rzeszów
1. Jakub Kowalik, Piotrków Trybunalski
1. Marcin Siegieńczuk, Wyszki