Polish Cup OYAMA TOP 2019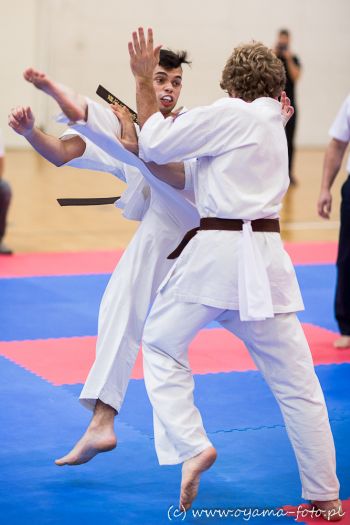 U22, www.oyama-foto.pl

Wieliczka hosted Polish Cup for Seniors and Juniors in Oyama Karate OYAMA TOP. Tournament was organized by Wielicki Sport Club OYAMA from the same city with its leader Sensei Jaroslaw Hebda 4th dan. The two day tournament gathered 300 competitors from 34 clubs including Kyokushin Karate Tezuka Group, Kyokushin WKB and Kyokushin IKO Nakamura. Mister Tadeusz Luraniec – City Council Chairman was present during the tournament along with President of the Board of OYAMA International Karate Federation - Hanshi Jan Dyduch 8th dan, President of European Kyokushin Tezuka Group – Shihan Eugeniusz Stanislawek 7th dan and the V-ce president of OYAMA IKF - Shihan Andrzej Pierzchala 7th dan. Shihan Pawel Pajdak 6th dan was a head referee of the tournament.
Opening ceremony with children, www.oyama-foto.pl
Saturday morning was reserved for the tournament in light contact (10-14 y.o.) conducted on four tatami. Fights were ferocious and heated up the spectators.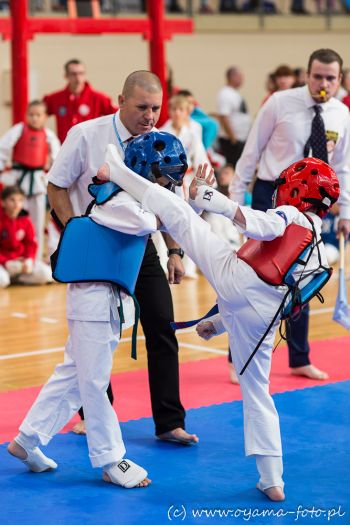 Fight in Light Contact, www.oyama-foto.pl
The tournament conducted in the most prestigious Knockdown category was on a high level. The trophies for the best Senior Female and Male fighters went to Wiktoria Fliśnik (Wieliczka) and Krzysztof Budzik (Katowice Goliat).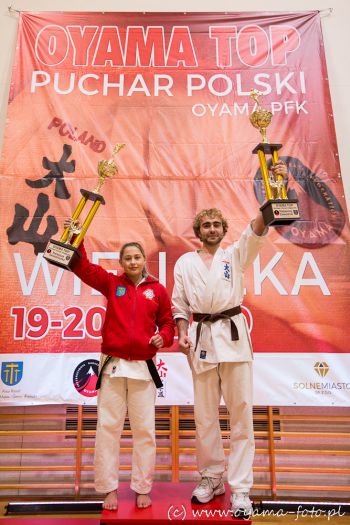 Best fighters of OYAMA TOP. Foto www.oyama-foto.pl
The second day focused on the Semi-knockdown category. The trophies for the best Junior Female went to Natalia Matusz (Oświęcim) and best Junior Male to Julian Boduszek (Katowice Goliat).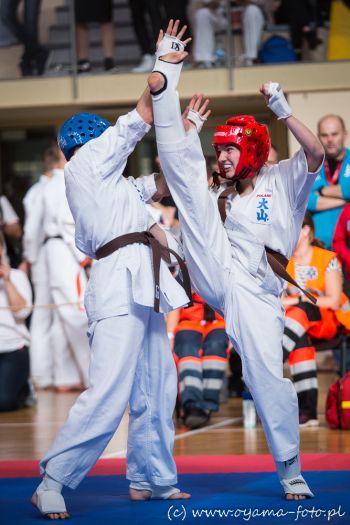 Semi-knockdown, www.oyama-foto.pl
Hanshi Jan Dyduch, besides the trophies handed additionally cash prizes for the winners of male and female Senior divisions.
FIRST PLACE WINNERS
KNOCKDOWN
1. Fliśnik Wiktoria, Wieliczka
1. Szulc Angela, Piotrków Trybunalski
1. Kowalik Jakub, Piotrków Trybunalski
1. Kosturek Mateusz, Rzeszów
1. Juźwiak Michał, Kraków Oyama
1. Budzik Krzysztof, Katowice Goliat
1. Szablewski Adam, Wałbrzych
SEMI-KNOCKDOWN
1. Matusz Natalia, Oświęcim
1. Grześ Natalia, Jelenia Góra
1. Paczyńska Natalia, Tarnobrzeg
1. Pawlak Julia, Legionowo
1. Depa Aleksandra, Rzeszów
1. Biernat Hubert, Wieliczka
1. Chwila Szymon, Katowice Goliat
1. Matczak Patryk, Łódź
1. Grzyb Bartłomiej, Kraków Oyama
1. Jagła Bartosz, Łódź
1. Chylińska Dominika, Oświęcim
1. Górak Martyna, Wieliczka
1. Półtorak Albertyna, Białystok
1. Herbst Gniewomir, Kraków Koyama
1. Zwierzyński Maciej, Sosnowiec
1. Boduszek Julian, Katowice Goliat
1. Nowak Sebastian, Wieliczka
1. Smolec Michał, Wadowice
LIGHT CONTACT
1. Domider Michalina, Tychy
1. Twardowska Alicja, Kraków Koyama
1. Greczner Roksana, Oświęcim
1. Leonarska Agata, Jelenia Góra
1. Nowak Hanna, Wieliczka
1. Sokół Maksym, Zagłębie
1. Świder Krzysztof, Wieliczka
1. Grzelak Jakub, Legionowo
1. Krzemień Maciej, Sosnowiec
1. Fliśnik Karol, Wieliczka
1. Kozak Paula, Tychy
1. Ferenc Elżbieta, Oświęcim
1. Gabryś Gabriela, Wieliczka
1. Bury Emilia, Lublin
1. Hajduk Emilia, Wieliczka
1. Lewon Jan, Otwock
1. Mizera Dawid, Jelenia Góra
1. Kulawik Krzysztof, Sosnowiec
1. Wilk Dawid, Kraków Koyama
1. Tomczyk Maksymilian, Kraków KAS
1. Kursa Jan, Kraków KAS
Photo Gallery:
www.oyama-foto.pl