The 23 rd Polish Oyama Karate
Championships in Kumite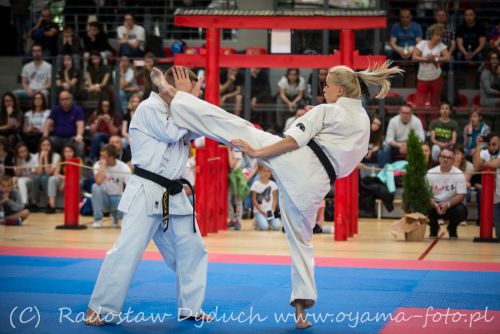 Katarzyna Starzyńska and Maciej Giziński. Photo Radoslaw Dyduch

The 23 rd Polish OYAMA Karate Championships in Kumite was held in Jelenia Góra. Hanshi Jan Dyduch 8th dan, the President of OYAMA Polish Karate Federation took patronage over the championships. Tournament was organized by Jeleniogorski Klub OYAMA and its leader Shihan Rafal Majda 5 th dan. Around 300 female and male fighters, representing 34 clubs, took part in the championships.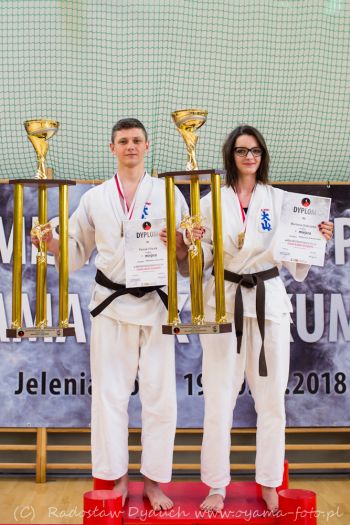 Marlena Gałuszka and Patryk Fliśnik best competitors of Polish Championships.
Photo Radoslaw Dyduch

Shihan Eugeniusz Stanislawek 6th dan, the President of European Kyokushinkai Tezuka Group and Shihan Andrzej Pierzchala 7th dan OYAMA IKF director of schooling division were also present during the competition. Shihan Pawel Pajdak 6th dan was the head referee. The duties of the mat referees were fulfilled by Shihan Eugeniusz Stanislawek 6th dan, Shihan Witold Choiński 6th dan, Shihan Ryszard Zolty 5 dan, Shihan Boguslaw Plewka 5th dan, Sensei Robert Bretner 4th dan, Sensei Mariusz Pawlus 4th dan, Sensei Dariusz Szulc 4 th dan, Sensei Tomasz Klimaszewski 4 th dan and Sensei Tomasz Mrowiec 3 rd dan.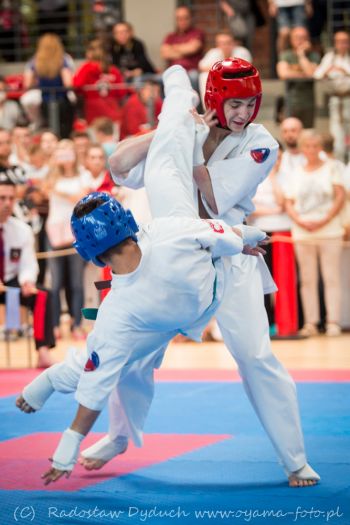 Semi-knockdown . Photo Radoslaw Dyduch
Saturday morning started with Light–contact competitions on tree tatami. Same day, afternoon was reserved for prestigious Knockdown tournament. Sunday was planed for the Junior Polish Championships in Semi-knockdown. The winners received nice trophies sponsored by OYAMA Polish Karate Federation.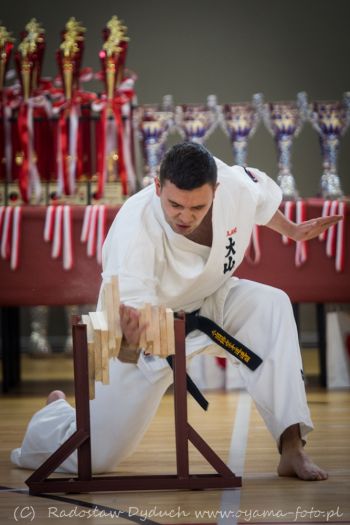 Mateusz Łanda. Photo Radosław Dyduch
PHOTOS
KNOCKDOWN GALLERY

SEMI-KNOCKDOWN GALLERY
FIRST PLACE WINNERS

LIGHT CONTACT (10-14 years old)
Polkowski Jakub, Wieliczka
Bednarek Oskar, Radom
Samojlik Michał, Białystok
Tomczyk Maksymilian, Kraków KAS
Liebich Adrian, Katowice Goliat
Ferenc Elżbieta, Oświęcim
Gabryś Gabriela, Wieliczka
Jaszczyk Emilia, Olkusz
Kotyra Maja, Lublin
Stępniak Mikołaj, Katowice Goliat
Kosterna Paweł, Radom
Wrona Mikołaj, Wieliczka
Petlic Jakub, Olkusz
Chorążyczewski Mikołaj, Jelenia Góra
Omelko Kacper, Jelenia Góra
Pollok Maciej, Kraków Koyama
Kubacka Wiktoria, Lubliniec
Greczner Oliwia, Oświęcim
Paczyńska Natalia, Tarnobrzeg
Pawlak Julia, Legionowo
Balczun Oliwia, Białystok
Hajduk Emilia, Wieliczka

SEMI-KNOCKDOWN, JUNIORS (14-18 years old)
Tomczyk Aleksander, Kraków KAS
Kiciński Kamil, Lubliniec
Stępień Krzysztof, Radom
Smolec Michał, Wadowice
Dzięgiel Adam, Oświęcim
Kosterna Jan, Radom
Ferenc Anna, Oświęcim
Chylińska Dominika, Oświęcim
Gałkiewicz Magda, Katowice Goliat
Gajdzińska Martyna, Katowice Goliat
1. Hebda Patryk, Wieliczka
Szmidt Szczepan, Lublin
Żelazny Michał, Katowice Goliat
Grabski Maciej, Tarnobrzeg
Jurczyk Jakub, Olkusz
Sztuc Piotr, Łódź
Wójcik Maja, Kraków Koyama
Rycerz Wiktoria, Lublin
Piskorz Weronika, Kraków Koyama
Szrejter Julia, Łódź
KNOCKDOWN (18-35 years old)
Fliśnik Patryk, Wieliczka
Juźwiak Michał, Kraków Oyama
Kowalik Jakub, Piotrków Trybunalski
Kosturek Mateusz, Rzeszów
Abratkiewicz Paweł, Piotrków Trybunalski
Chlabicz Adam, Białystok
Gałuszka Marlena, Kraków KAS
Szulc Angela, Piotrków Trybunalski
Cyrulik Justyna, Kraków Oyama
KNOCKDOWN (Veterans)
Kołodziej Mirosław, Lubsko
Swoboda Rafał, Katowice WR1
Gierek Bogusław, Bochnia
TAMESHIWARI
1. Łanda Mateusz, Lubsko
SINCERE CONGRATULATIONS TO THE ORGANIZERS AND ALL MEDAL WINNERS, OSU!