Polish Oyama Karate Championships in Kata.

Knockdown OYAMA CUP, Rzeszow 2018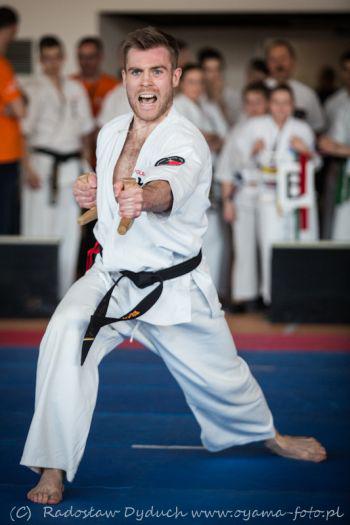 Mateusz Kosturek won gold and silver for the home team. Photo Radoslaw Dyduch

City of Rzeszow hosted 24th OYAMA PKF Championships in Kata as well as 2nd Polish OYAMA CUP in Knockdown. Tournaments gathered over 230 competitors from 30 OYAMA PFK clubs. The event was organized by the OYAMA Rzeszow club with Sensei Patrycjusz Mostek 4th Dan.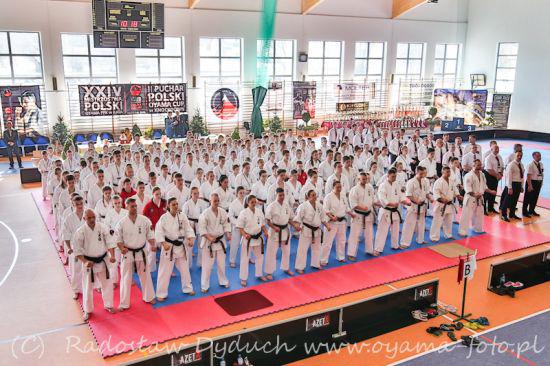 Opening ceremony of the Polish Championships in Kata. Photo Radoslaw Dyduch

The Championships were opened by Hanshi Jan Dyduch, President of the Board, OYAMA PKF. Morning was reserved for the Championships in Kata and Kobudo. Two competitors stood out in the tournament by winning two gold medals: Dominika Ziolek (Legionowo) and Jakub Kowalik (Piotrkow Trybunalski)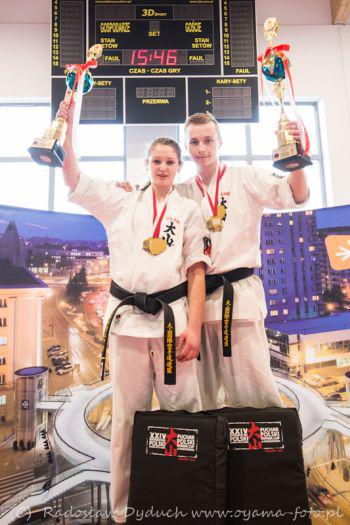 Best competitors of Polish Championships. Photo Radoslaw Dyduch
In the afternoon spectators could feast on the 2 nd Polish OYAMA CUP in Knockdown with over 40 competitors fighting in the most prestigious division. The tournament was preceded by a ceremony of presenting occasional cups for the laureate of the Ranking of the Best Sportsman of 2017. Beautiful trophies were handed by Hanshi Jan Dyduch 8 th dan.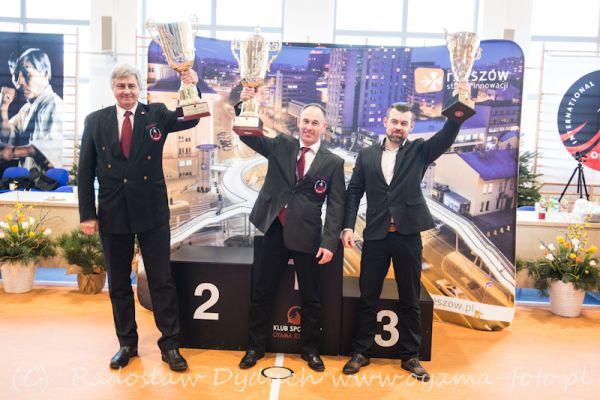 Chairman of the best Clubs in 2017. Photo Radoslaw Dyduch


As usually the most dynamic and technically beautiful fights were those in lightweight and middleweight division. Polish Championships and Polish Cup were co-financed by OYAMA Polish Karate Federation.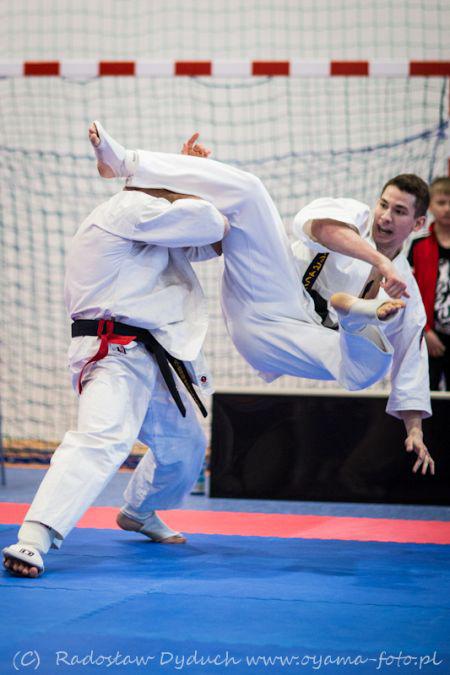 Fast attack by Bartlomiej Kwapisz. Photo Radoslaw Dyduch
POLISH OYAMA KARATE CHAMPIONSHIPS IN KATA - FIRST PLACE WINNERS
KATA
Twardowska Alicja, Kraków Koyama
Kociołek Bartosz, Katowice Goliat
Sułkowska Paulina, Rzeszów
Stępniak Mikołaj, Katowice Goliat
Gierałka Maja, Turek
Matczak Patryk, Łódź
Chylińska Dominika, Oświęcim
Furgaliński Grzegorz, Olkusz
Sudoł Gabriela, Rzeszów
Grabski Maciej, Tarnobrzeg
Stanek Patrycja, Katowice Goliat
Kitowski Kacper, Piotrków Trybunalski
Ziółek Dominika, Legionowo
Kowalik Jakub, Piotrków Trybunalski
WEAPONS KATA
Chylińska Dominika, Oświęcim
Hebda Kacper, Wieliczka
Leboniuk Małgorzata, Sosnowiec
Piasecki Jakub, Kraków Koyama
Ziółek Dominika, Legionowo
Kowalik Jakub, Piotrków Trybunalski
POLISH OYAMA CUP - FIRST PLACE WINNERS
Szewczyk Paulina, Sosnowiec
Sobiło Ewa, Rzeszów
Broda Aleksandra, Kraków Oyama
Rożek Angelika, Katowice Goliat
Wasiak Paweł, Turek
Kosturek Mateusz, Rzeszów
Kwapień Łukasz, Kraków Oyama
Chlabicz Adam, Białystok
Sukmanowski Mariusz, Herby
Gierek Bogusław, Bochnia
SINCERE CONGRATULATIONS TO THE ORGANIZERS AND ALL MEDAL WINNERS, OSU