ALL POLISH SEMINAR IN KRAKOW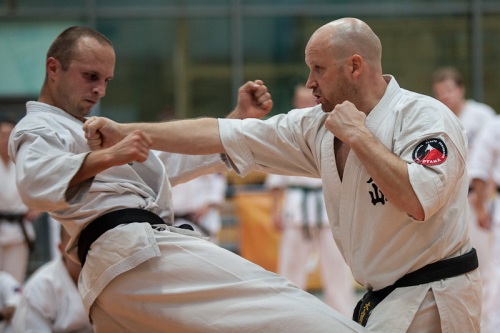 Sensei Grzegorz Kowalski and Shihan Rafal Majda, Foto. Radoslaw Dyduch





Krakow hosted an All Polish Oyama Karate Seminar focusing on kumite competitions. Nearly 110 instructors and competitors from Poland took part in the event.
Meeting schedule consisted of:
Ceremonial black belt presentations hosted by Hanshi Jan Dyduch 8th Dan. Hanshi presented the participants of the black belt test conducted by Grand Master Shigeru Oyama 10th dan in June. Besides that, Director of OYAMA IKF presented diplomas for 5th Dan to Shihan: Rafal Majda, Waldemar Leonczyk, Piotr Bakon and Ryszard Zolty. After the nominations Hanshi thanked everybody for their active time of preparations for the test. Sensei Arkadiusz Pruszak and Sensei Marcin Waszczeniuk, representatives of SkladyWegla.pl, were acknowledged for their financial support of the OYAMA Polish Karate Federation.
Two knockdown karate, offensive and defensive, combinations - training lead by Shihan Rafal Majda 5th dan.