Krakow hosted an All-Polish Oyama Karate Meeting that had an central exam for
green and brown belts as well as a schooling seminar. Two day meeting gathered 170
participants from 22 clubs from Poland. Hanshi Jan Dyduch 8th dan promoted over 40
people on higher belts including 9 for 1st kyu.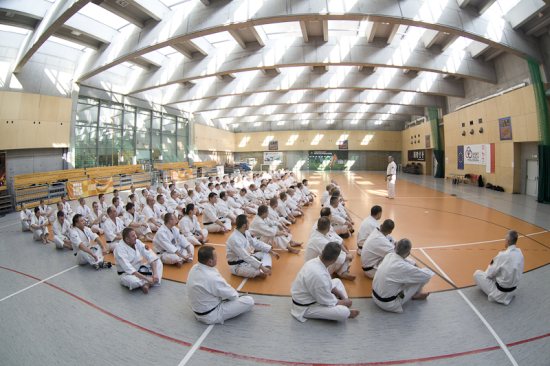 Participants of the Meeting. Foto. Radosław Dyduch
Between 26-27 May 2012 Krakow will host a 15th International OYAMA IKF Training-
Qualifying Seminar with the Style Creator, Grand Master Shigeru Oyama 10th dan.
Having that fact in mind , last weekend:
Shihan Andrzej Pierzchała 6th dan (Krakow) thought advanced kata: Kai-Ha, Shotei,
Tonfa kihon 1-3, Taizan and Soki.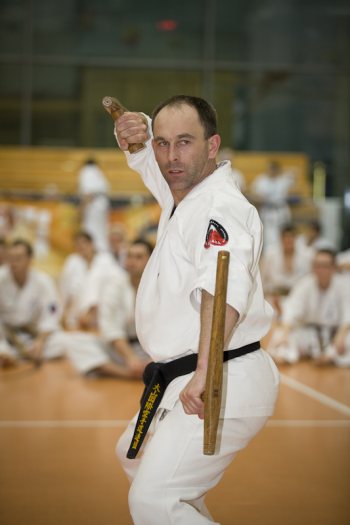 Sensei Dariusz Szulc. Foto. Radosław Dyduch
Shihan Paweł Pajdak 5th dan (Sosnowiec) did a review of master level kata: Seienchin, Kanku-dai and Sai kihon 1-3,
And Hanshi Jan Dyduch 8th dan (Krakow) conducted a schooling regarding Koryu
Gojushiho.
Hanshi during the analysis of Koryo Gojushiho
Foto. Radosław Dyduch
Within the preparations for the international promotion test two All Polish seminars were conducted. There are two months of hard work before the candidates in their local clubs. We wish You good luck, OSU!
During the meeting Hanshi Jan Dyduch did a workshop explaining the goals and tasks
of "Sport against social exclusion" Krakow city program.
Thank You for high attendance, OSU!
Photo gallery:
http://oyama-foto.pl/#/content/OYAMA%20KARATE/2012/Seminarium%20Marzec/