The European ICHIBAN Cup took place in Breda, the tournament was organised by European Organization- Kyokushinkai Tezuka Group with its leader Shihan Alain Breugelmans 7 dan. The representatives of different knockdown karate organizations and countries took part in the competition. Among the participants there were also the representatives of Poland from OYAMA PFK and Tezuka Group. Shihan Mori from Japan was a guest of honour.

Our team with Shihan Alain Breugelmans, photo: Radosław Dyduch
The representative of OYAMA PKF, Sempai Łukasz Łuczyński, Kozienice and Sempai Dawid Kiszycki, Białystok, were defeated during elimination phase after fierce fights. Due to the opinion of Sensei Rafał Majda, the coach of our team, the tournament was at a high level and it was well refereed.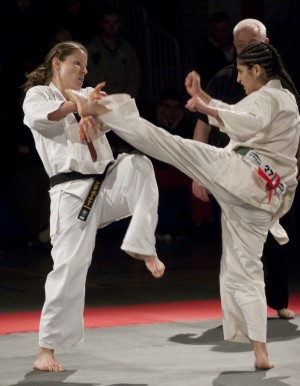 The victorious fight of Anita Bucher, Switzerland, photo: Radosław Dyduch
Especially female fighters (for their fierce fights) and veterans (over 40 years old) with the oldest 52-year-old fighter earn a great appreciation. During the opening ceremony, the host prepared an excellent Japanese-style show.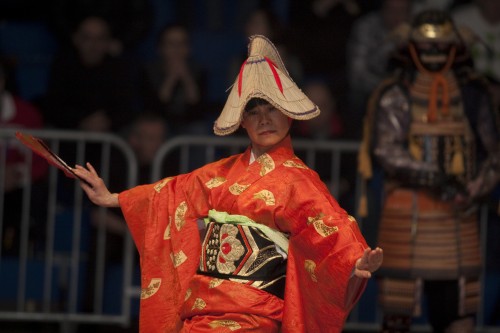 A lady with a fan, photo: Radosław Dyduch
Radosław Dyduch, OYAMA IFK Director of foreign affairs, was the head of our team, an interpreter and a photograph.
Results

Women
1st place
Anita Bucher
Switzerland
2nd place
Canan Yorulmaz
The Netherlands
3th place
Anna Vishniakova
Russian Federation
Men
1st place
Daniel Sanchez
Spain
2nd place
Sergey Braun
Germany
3th place
Saeed Arzough
Iran
Veterans
1st place
Borys Gladkyl
Ukraine
2nd place
Robert Verlegh
Belgium
3th place
Salvador Nyens
Belgium
Supplementary prizes
Women
Best lightweight
Canan Yorulmaz
Holland
Best heavyweight
Anita Bucher
Switzerland
Men
Best lightweight
Michel Rinerie
Holland
Best middleweight
Daniel Sanchez
Spain
Best heavyweight
Sergey Braun
Germany
Veterans
Best heavyweight
Borys Gladkyl
Ukraine
Spirit prize
Sergey Braun
Germany
Fastest K.O.

Sammy-Lee Muller
Ukraine